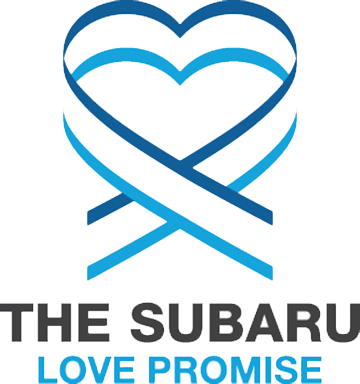 What is the Subaru Love Promise?
Subaru and our retailers believe in making the world a better place and the Subaru Love Promise is our vision of respecting all people. This is our commitment to show love and respect to our customers and to work to make a positive impact in the world.
How is The Autobarn Subaru of Countryside dedicated locally to the Love Promise?
At The Autobarn Subaru of Countryside, our Love Promise to the Chicago land area can be seen in various partnerships with charities and nonprofits. We're grateful for the opportunity to serve and give back to those in need. We strive to make our customers part of our family.
Amita Health Cancer Center
Love Promise Stories from The Autobarn Subaru of Countryside
Subaru and The Autobarn Subaru of Countryside believe in making a positive impact on the communities in which we live and work. We uphold that belief through our Love Promise Community Commitment. Every month, we select inspiring stories from customers and partners from around our area who strive to support our collective commitment and feature them here
Sharing the Love with AMITA Health Cancer Clinic - Janet D
To our friends at The Autobarn Subaru of Countryside, THANK YOU from the bottom of our hearts for you generous blanket donation given to our patients here at the AMITA Health Cancer Institute in Hinsdale, IL. Your kind thoughts and words mean so much. We are so grateful that you reached out and provided warmth and comfort to so many of our patients receiving chemotherapy here at our clinic, where treatments can often last several hours. Adding an extra layer of comfort means so much to so many. Subaru, you have certainly kept your promise to be a positive force in our community and to 'Share the Love.' We are blessed to be the recipients of your kindness.
---
Thank you Subaru Loves to Help from BEDS Plus Care - Valerie V
A heartfelt thank you to Subaru Loves to Help! The initiative donated four boxes of warm blankets and masks that will be given to clients. Our Street Outreach team also will give the blankets and masks to those experiencing homelessness on the streets this winter. The blankets and masks will be much appreciated by those we serve during the cold winter months, and will help to block the chilly wind. We love our community partners!
---
Sharing the Love for the Wish Journey - Wendy S
The Autobarn Subaru of Countryside, its owners, employees, and customers truly Share the Love and embrace the power of wish, not just during the holiday season, but throughout the whole year! Make-A-Wish Illinois could not be more grateful for the support of this amazing company. Their support means that even during a global pandemic, Make-A-Wish was able to grant more than 400 life-changing wishes this past year for children in Illinois with critical illnesses. During the Share the Love 2020 Event, so many Autobarn Subaru customers who purchased or leased a Subaru selected Make-A-Wish Illinois to receive the Share the Love $250 donation, that they raised more than $20,000! And Autobarn Subaru of Countryside generously MATCHED the amount raised during the event by its customers!! And at the height of the pandemic when practically all wishes were paused, Autobarn Subaru, its owners and employees, came out in force to celebrate wish child Lyla's birthday with a car parade, presents, and a proclamation from her town that it was Lyla's Day! They truly understand that a wish is not just a fleeting moment in time, but a journey that provides hope, strength and joy to children when they need it most. This is the best Promise that Subaru and Autobarn Subaru can make to the children in our community -- that they will be there to ensure that their wish journey will be a magical experience of discovery and joy. Thank you to everyone at Autobarn Subaru of Country and all of your amazing customers for believing in the power of a Wish!
---
Odetta the Underdog - Deborah K
Hinsdale Humane Society is proud to share Odetta's story with our friends at The Autobarn Subaru of Countryside. Odetta came to us from Chicago Animal Care and Control. A 7-year old pit bull with mammary tumors is a true underdog, and one we knew we had to help. There was a 50/50 chance her tumors would be benign. The only way we would know was to remove them. While some were benign, others were cancerous. But thankfully all were removed with clean margins and only a 5% chance of ever coming back. Odetta was a sweet, lovable girl who just needed her second chance at a great life. She found that second chance during Adopt a Dog Month when a family came forward to welcome her into their lives. Thanks to Subaru's pledge commitments and promotions, we were able to find homes for 50 dogs and 81 cats! We are so grateful for the support we received from Subaru in sharing the message of helping the underdogs. Our thanks to all of you!
---
Concrete & Subaru - A Rock Solid Friendship - Deborah K
Hinsdale Humane Society and our buddy Concrete would like to thank The Autobarn Subaru of Countryside. Concrete came to us as a stray, his feet covered in concrete from romping through a nearby construction site. He is the biggest, most lovable, goofiest pup, but was having a hard time finding his forever home due to his sheer size. The Autobarn Subaru of Countryside allowed Concrete to visit the showroom, which gave him added attention and visibility from potential adopters in the community. Subaru's pledge to donate $100 for every dog adopted from HHS during the month of October was beyond generous and allowed us to find homes for 33 dogs, including Concrete. We are so grateful for the support, encouragement and promotion of the importance of adoption. It's wonderful to have partners in the community like Subaru that care so much about animal welfare!
---
Make-A-Wish Illinois - Michelle A
Richard and the team at Autobarn of Countryside Subaru have been beyond supportive of our local Make-A-Wish Illinois. We are truly grateful for this partnership and their willingness to make our local chapter their 5th hometown charity. Their willingness to do this allows us to grant life changing wishes for kids like Milo, in the photo attached. Wishes are more than just a nice thing. And they are far more than gifts, or singular events in time. Wishes impact everyone involved - wish kids, volunteers, donors, sponsors, medical professionals and communities. The impact varies. For wish kids, just the act of making their wish come true can give them the courage to comply with their medical treatments. Our corporate partners are an enormous factor in granting these wishes. Thank you, Subaru, for SHARING THE LOVE!
---
Ideal School Book Donation - Eilidh H
Ideal Elementary School would like to thank The Autobarn Subaru of Countryside for the very generous book donation! We received 150 nonfiction books ranging in subjects and levels. Our students are enjoying spending time together reading and learning with their friends. We are incredibly grateful for our continued partnership with Subaru! Thank you!
---
Autobarn of Country Side + AMITA Health Cancer Ins - Michelle M
On July 15, 2019, The Leukemia and Lymphoma Society's Greater Illinois Chapter and The Autobarn Subaru of Countryside had the pleasure of delivering 80 blankets to AMITA Health Cancer Institute and Outpatient Center as part of the Subaru Loves to Care program. These comforting gifts were accompanied by personalized messages of hope written by the customers and staff of The Autobarn Subaru of Countryside. This incredible act of generosity was warmly received by AMITA Health Cancer Institute and Outpatient Center staff who were thrilled to distribute these comforting gifts to their patients. Nursing staff described their patients as "the best around" telling stories of a devoted group of people who support and care deeply for each other and the entire staff. Representatives of The Autobarn Subaru of Countryside also had the opportunity to visit with several patients to personally offer comfort, well wishes,and support. One patient noted that she had just been searching for her favorite blanket which had gone missing, so it was perfect timing to receive this cozy blanket from Subaru. LLS is proud to partner with Subaru to spread hope, love and warmth to those fighting cancer across the country and right here in the Hinsdale, Illinois community.
---
Ideal Elementary School Book Donation - Eilidh H - Eilidh H
Ideal Elementary School would like to thank The Autobarn Subaru of Countryside for the very generous book donation! Ideal was lucky enough to receive 150 nonfiction books that are suitable for all ages. The kids are enjoying reading together and sharing their learning with peers and teachers. As a staff, we are extremely grateful for the new resources and the partnership with Subaru. Thank you!
---
It Takes a Village - Sue W
I wanted to take a moment to say thank you for the amazing morning at the AMITA Cancer Institute Hinsdale. The blankets and words of encouragement are amazing. I know the team at the Institute is so grateful for community partners like you. It truly takes a village when going through the cancer journey, so the little things like a note or the warmth of a blanket can make someone feel the love. Please let your entire team know we appreciate their dedication to caring.
---