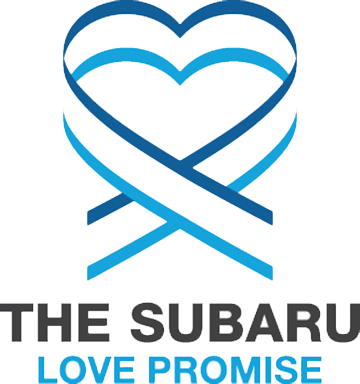 What is the Subaru Love Promise?
Subaru and our retailers believe in making the world a better place and the Subaru Love Promise is our vision of respecting all people. This is our commitment to show love and respect to our customers and to work to make a positive impact in the world.
How is The Autobarn Subaru of Countryside dedicated locally to the Love Promise?
Love Promise Stories from The Autobarn Subaru of Countryside
Subaru and The Autobarn Subaru of Countryside believe in making a positive impact on the communities in which we live and work. We uphold that belief through our Love Promise Community Commitment. Every month, we select inspiring stories from customers and partners from around our area who strive to support our collective commitment and feature them here
Concrete & Subaru - A Rock Solid Friendship - Deborah K
Hinsdale Humane Society and our buddy Concrete would like to thank The Autobarn Subaru of Countryside. Concrete came to us as a stray, his feet covered in concrete from romping through a nearby construction site. He is the biggest, most lovable, goofiest pup, but was having a hard time finding his forever home due to his sheer size. The Autobarn Subaru of Countryside allowed Concrete to visit the showroom, which gave him added attention and visibility from potential adopters in the community. Subaru's pledge to donate $100 for every dog adopted from HHS during the month of October was beyond generous and allowed us to find homes for 33 dogs, including Concrete. We are so grateful for the support, encouragement and promotion of the importance of adoption. It's wonderful to have partners in the community like Subaru that care so much about animal welfare!
---
Make-A-Wish Illinois - Michelle A
Richard and the team at Autobarn of Countryside Subaru have been beyond supportive of our local Make-A-Wish Illinois. We are truly grateful for this partnership and their willingness to make our local chapter their 5th hometown charity. Their willingness to do this allows us to grant life changing wishes for kids like Milo, in the photo attached. Wishes are more than just a nice thing. And they are far more than gifts, or singular events in time. Wishes impact everyone involved - wish kids, volunteers, donors, sponsors, medical professionals and communities. The impact varies. For wish kids, just the act of making their wish come true can give them the courage to comply with their medical treatments. Our corporate partners are an enormous factor in granting these wishes. Thank you, Subaru, for SHARING THE LOVE!
---
Ideal School Book Donation - Eilidh H
Ideal Elementary School would like to thank The Autobarn Subaru of Countryside for the very generous book donation! We received 150 nonfiction books ranging in subjects and levels. Our students are enjoying spending time together reading and learning with their friends. We are incredibly grateful for our continued partnership with Subaru! Thank you!
---
Autobarn of Country Side + AMITA Health Cancer Ins - Michelle M
On July 15, 2019, The Leukemia and Lymphoma Society's Greater Illinois Chapter and The Autobarn Subaru of Countryside had the pleasure of delivering 80 blankets to AMITA Health Cancer Institute and Outpatient Center as part of the Subaru Loves to Care program. These comforting gifts were accompanied by personalized messages of hope written by the customers and staff of The Autobarn Subaru of Countryside. This incredible act of generosity was warmly received by AMITA Health Cancer Institute and Outpatient Center staff who were thrilled to distribute these comforting gifts to their patients. Nursing staff described their patients as "the best around" telling stories of a devoted group of people who support and care deeply for each other and the entire staff. Representatives of The Autobarn Subaru of Countryside also had the opportunity to visit with several patients to personally offer comfort, well wishes,and support. One patient noted that she had just been searching for her favorite blanket which had gone missing, so it was perfect timing to receive this cozy blanket from Subaru. LLS is proud to partner with Subaru to spread hope, love and warmth to those fighting cancer across the country and right here in the Hinsdale, Illinois community.
---
Ideal Elementary School Book Donation - Eilidh H - Eilidh H
Ideal Elementary School would like to thank The Autobarn Subaru of Countryside for the very generous book donation! Ideal was lucky enough to receive 150 nonfiction books that are suitable for all ages. The kids are enjoying reading together and sharing their learning with peers and teachers. As a staff, we are extremely grateful for the new resources and the partnership with Subaru. Thank you!
---
It Takes a Village - Sue W
I wanted to take a moment to say thank you for the amazing morning at the AMITA Cancer Institute Hinsdale. The blankets and words of encouragement are amazing. I know the team at the Institute is so grateful for community partners like you. It truly takes a village when going through the cancer journey, so the little things like a note or the warmth of a blanket can make someone feel the love. Please let your entire team know we appreciate their dedication to caring.
---
Making Wishes Come True for Illinois Kids - Alicea S
For the second year in a row, Autobarn Subaru of Countryside has chosen Make-A-Wish Illinois to be its local charity of choice during the annual Share the Love Campaign. This year, their tremendous staff and the customers who supported them helped raise over $22,000 to grant the wishes of kids in Illinois with serious illnesses. Wishes empower critically ill children an opportunity to dream beyond their circumstances, infusing them with hope for the future, strength to carry them through their treatment, and joy to share with their family. We are honored to be chosen once again by Autobarn. Their generosity will help change the lives of so many children in need. To learn more about Make-A-Wish or to refer a child, please visit Illinois.wish.org.
---
Ideal Elementary School - Book Donation - Barb H
On behalf of the entire Ideal Elementary School community, we would like to thank The Autobarn Subaru of Countryside for their generous book donation. The collection of 150 nonfiction science books has been shared with each classroom and will be used as an addition to the science curriculum. The students have enjoyed perusing the new books and sharing their exciting discoveries! The Ideal staff is committed to opening the minds of our learners and we are grateful for the resources provided through the Subaru Loves Learning initiative.
---
Make-A-Wish Illinois - Alicea S
Autobarn Subaru of Countryside chose Make-A-Wish Illinois as their Charity of Choice during this year's Share the Love Campaign. That means that customers could decide to give their donation to help kids specifically in Illinois - the children right here in their schools, neighborhoods, and communities. Autobarn went above and beyond to make sure Make-A-Wish was front and center during the campaign, setting up a beautiful Make-A-Wish display with real wish stories from Chicagoland kids. The results were simply incredible. The Autobarn raised over $25,000 for Make-A-Wish Illinois in just over a month. This simply could not have been done without the wonderful compassion and dedication of the staff. Nation-wide, the Share the Love campaign raises over $3 million dollars for Make-A-Wish. These funds to grant incredible wishes to children battling life-threatening illnesses, to provide them with hope, strength and joy.
---
Share the Love Event Supports BEDS Plus - Tina R
As part of it's on-going support of local communities during their "Share the Love Event", Subaru of Countryside presented a generous donation to BEDS Plus of nearly $5,000 in a ceremony on April 20th. BEDS Plus was selected by Subaru of Countryside as their "Hometown Charity" during this national event. From November 19, 2015 to January 2, 2016, customers who purchased or leased a new Subaru vehicle were able to select from a list of charities to receive a donation. "We chose BEDS Plus as our Hometown Charity because of the tremendous work they do locally to help the many issues facing our homeless neighbors", said Gina Fisher, President of Subaru of Countryside. "Since 1988, BEDS Plus has given the homeless a safe place to sleep, hot homemade meals, professional counseling and the job services they need to become self-sufficient. These are people right in our backyard in Lyons, Stickney, Riverside and Proviso townships." BEDS Plus is extremely grateful to Gina, all of the good people of Subaru of Countryside.
---